Solo travel, a trend once considered a daring venture, has rapidly grown into a beloved movement for explorers worldwide. A unique freedom and self-discovery come from journeying alone, an experience I have been lucky enough to enjoy in the mesmerizing Cayman Islands. From diving deep into the clear waters, encountering the friendly stingrays, basking on the pristine beaches, and reveling in the rich cultural history, my solo journey in the Cayman Islands has been nothing short of magical.
This article is from my experiences, shared to aid individuals like you in planning a solo trip to this Caribbean paradise. As a fellow solo traveler, I can assure you that the islands offer a welcoming and safe environment where you can embark on your unforgettable adventure.
In this comprehensive guide, we'll dive into everything you need to know about Cayman Islands solo travel – from getting there, navigating the islands, and choosing your accommodations, to budget tips, packing essentials, must-see sights, and must-do activities.
Key Takeaways
The Cayman Islands offer a diverse range of attractions and activities for solo travelers to explore.
Staying informed about safety, accommodation options, and transportation will enhance your travel experience.
Immerse yourself in the local culture by trying local cuisine and visiting popular attractions.
Why Choose Cayman Islands for Solo Travel
Choosing the perfect destination for solo travel is a thoughtful decision prioritizing safety, accessibility, and unique experiences. Located in the sparkling Caribbean Sea, the Cayman Islands tick all these boxes and offer much more.
The Cayman Islands are a sun-drenched paradise, boasting crystal-clear turquoise waters, pristine sandy beaches, and an array of tropical marine life. Traveling solo here allows you to immerse yourself in nature, appreciate the stunning scenery at your own pace, and engage in many activities that will leave you both relaxed and invigorated.
Dive into some of the world's best scuba spots, swim alongside stingrays in the wild, or navigate the mysteries of the Crystal Caves – solo adventures in the Cayman Islands promise unparalleled experiences and many opportunities to socialize. Whether you prefer peaceful solitude or seek social interactions, the Islands have something for you. Engage with the locals, known for their warm hospitality, or join group activities such as beach yoga or boat tours, where you'll likely meet fellow solo travelers.
Culturally, the islands are a melting pot of Caribbean traditions infused with global influences. Solo travel in the Cayman Islands presents an opportunity to learn about the rich history and vibrant culture reflected in the local food, music, and festivals.
A testament to this is the shared experience of previous solo travelers. Adam, a digital nomad from Toronto I later met in Curaçao, shares his experience, "The Cayman Islands provided the perfect backdrop for my solo adventure. The locals were incredibly welcoming, and I loved exploring the islands at my own pace. Plus, the culinary scene is mind-blowing – it was a treat to indulge in fresh seafood at beachfront diners."
Rebecca, a blogger from Australia, recounts, "I visited the Cayman Islands for their acclaimed scuba diving sites and to swim with the many species of sharks present in those waters, but I was captivated by so much more. The biodiversity is breathtaking, and the local community is conscious about conserving their natural wonders. As a solo traveler, I felt safe and welcomed everywhere I went."
The Cayman Islands alluring beauty, diverse experiences, and warm hospitality make for an ideal solo travel destination. But please don't just take our word for it; you can continue reading for all the info you need to decide by yourself.
Essential Travel Information
Visa Requirements
Visiting the Cayman Islands is relatively straightforward. For most countries, a visa is not required for tourist stays up to 30 days. However, you should hold a valid passport with at least six months of remaining validity and a return ticket to your home country. For specific information regarding visa requirements for your country, it's a good idea to check the Cayman Islands' website.
Language
English is the official language spoken in the Cayman Islands. You'll find that communication is easy throughout your solo trip, as most locals and service providers speak English fluently.
Currency
The official currency of the Cayman Islands is the Cayman Islands Dollar (KYD). US dollars are also widely accepted, but change may be given in KYD. Carrying some local currency is recommended, as some smaller establishments may not take US dollars, even though you can pay by credit card in many establishments. Make sure you familiarize yourself with the exchange rate to avoid any surprises.
Best time to visit
When considering the best time to visit, the Cayman Islands enjoy a tropical marine climate with a warm, wet season (May to October) and a cooler, dry season (November to April). For solo travelers who want to enjoy outdoor activities like scuba diving, snorkeling, jet ski tours, and beach hopping, the dry season is ideal as it experiences less rainfall and has calm sea conditions.
But if you're looking for fewer crowds and lower prices, the wet season can be a good choice, considering this is also hurricane season in the Caribbean.
Getting to the Cayman Islands
With an increasing number of direct and connecting flights, getting to the Cayman Islands is becoming more accessible for global travelers. The islands' main airport, Owen Roberts International Airport (GCM), located on Grand Cayman, hosts international flights from several regions.
If you're traveling from North America, many major airlines, including American Airlines, Delta, and JetBlue, offer direct flights from cities like Miami, New York, and Atlanta. From Europe, there are no direct flights, but several airlines offer flights with one stopover, usually in Miami or other US cities.
If you're in Central America or the Caribbean, Cayman Airways offers direct flights from regional destinations such as Havana and Kingston. Those traveling from Asia or Australia can reach the Cayman Islands through various connecting flights, typically with a layover in the US or the UK.
Safety and Solo Travel
Safety Tips for Solo Travelers
When venturing out to explore the Cayman Islands on your own, it's essential to prioritize your safety. Although the islands are relatively safe, using common sense and being aware of your surroundings is always wise.
Here are some safety tips to follow:
Research and plan

: Before embarking on your solo adventure, research the areas, beaches, and activities you want to visit

so that you know where you are going and what to expect.
Stay in well-traveled areas

: Choose well-lit, populated areas to avoid unwanted attention and adhere to the same safety precautions you would normally take at home.

Emergency number: Save the contact numbers of emergency services in your phone: the general emergency number in the Cayman Islands is 911.
Group tours and activities

: Consider joining group tours or activities which provide added safety and offer the chance to meet other travelers.

Beach bars and nightlife: Exercise caution when visiting Grand Cayman beach bars or enjoying the nightlife. Be vigilant with your belongings and opt for a trusted taxi service when traveling to and from your destination.
Connect with hotel staff

: The concierge at your accommodation can provide valuable advice on the safest areas to visit and activities to partake in. Don't hesitate to ask for their recommendations.
Cayman Island Solo Female Travel
The Cayman Islands offer a welcoming environment for solo female travelers. However, it's still important to stay vigilant and take necessary precautions.
Here are some extra tips to ensure a safe and enjoyable experience if you are a solo female traveler in the Cayman Islands (as you see, there is nothing much different than the usual general security recommendations):
Blend in

: Avoid drawing undue attention to yourself and try to blend in with the local culture.

Personal safety alarms

: Consider carrying a personal safety alarm and share your itinerary with someone you trust.

Trust your instincts

: If you feel uncomfortable in a certain situation or place, do not hesitate to leave and seek a safer location.

Avoid secluded areas

: Steer clear of deserted beaches or isolated regions, as these areas might present a higher risk of crime or unwanted situations.
Accommodations and Lodging
The Cayman Islands offers a variety of accommodations for solo travelers. Whether you're looking for luxurious beachfront properties or budget-friendly options, you'll have plenty to choose from. This section will cover hotels, condos, and hostels to help you find the perfect lodging during your stay.
Hotels
The Cayman Islands has several high-end hotels for those who enjoy some luxury on their vacation. Many of these properties are near the beach, allowing you to enjoy stunning ocean views. You can pamper yourself with luxurious amenities like spa treatments and gourmet dining. Beachfront hotels are an excellent choice for travelers who want a full-service experience.
High-End Hotels
Are you looking to rent a whole villa? Then Cayman Villas (www.caymanvillas.com) is your go-to resource.
Budget Hotels
However, if you prefer a more budget-friendly option, there are also affordable hotels that offer great value without sacrificing quality. Look for hotels slightly further from the beach or less touristy areas for more affordable rates.
Remember, "budget" is relative, and prices can vary greatly depending on the season, availability, and specific room or package you choose. Always check the latest rates and reviews before booking.
Sunshine Suites Resort
Holiday Inn Resort Grand Cayman

Address: 278 Crighton Drive, Crystal Harbour, Grand Cayman

Wyndham Reef Resort
Condos
Renting a condo can offer you more space, privacy, and a home-like atmosphere during your solo trip to the Cayman Islands. Condos provide all the comforts of home, like a fully equipped kitchen, which allows you to save money by cooking your own meals. Many condos in the Cayman Islands are located close to the beach and offer amenities like pools and fitness centers. You can find apartments and condos in various parts of the islands to suit your preferences and budget.
Here are some popular platforms where you can find vacation rentals or condos in the Cayman Islands:
Hostels
Consider staying at a hostel if you're open to a more social and budget-friendly lodging option. Hostels are ideal for solo travelers looking to meet new people and share travel experiences. They often provide shared dormitory-style rooms, significantly lowering your accommodation costs.
While there aren't many hostels in the Cayman Islands, mostly known for their luxury tourism, you can still find a few good options. Remember that hostels may not offer the same amenities as hotels or condos but make up for it by providing a friendly, communal environment.
Major Rod (the only real hostel in Grand Cayman)

Address: 45 Wahoo Close, Grand Cayman, Cayman Islands

Seven Mile Beach Resort

Address: 19 D Piper Way, West Bay Rd, George Town, Cayman Islands
Website: www.7mile.ky

Turtle Nest Inn
Please remember that apart from Major Rod, these aren't traditional hostels. They offer private accommodations but may have some shared amenities like pools or kitchen areas, and they cater to budget-conscious travelers.
Transportation Options
Once you're in the Cayman Islands, moving around can be quite easy and efficient, thanks to the availability of various modes of transport suitable for solo travelers.
Check the various options for airport transportation in Grand Cayman.
Renting a Car
Renting a car is a great option to explore the entire island at your own pace. Grand Cayman is home to numerous car rental agencies, both local and international – including well-known brands from the United States. When you rent a jeep or a car, you'll be free to visit different points of interest across the island without relying on public transportation schedules.
Keep in mind that driving in the Cayman Islands is on the left-hand side of the road, which may take some getting used to if you're accustomed to driving on the right. Additionally, the island follows Caribbean speed limits, so be aware of these differences to ensure a safe and enjoyable driving experience.
Public Transportation
If you prefer to avoid renting a car, Grand Cayman offers other transportation options. One such option is the public bus system, which operates on various routes throughout the island. Public buses are an affordable and convenient way to travel between popular tourist destinations. However, be mindful that the buses are primarily used by residents commuting to work, so they may continue if they're full.
Buses run seven routes throughout Grand Cayman, covering most of the island. Look out for the colorful mini-buses marked with the route's destination. You can flag down these buses from the roadside, which usually operate from early morning until late evening. Remember to have cash in small denominations, as cards are only sometimes accepted.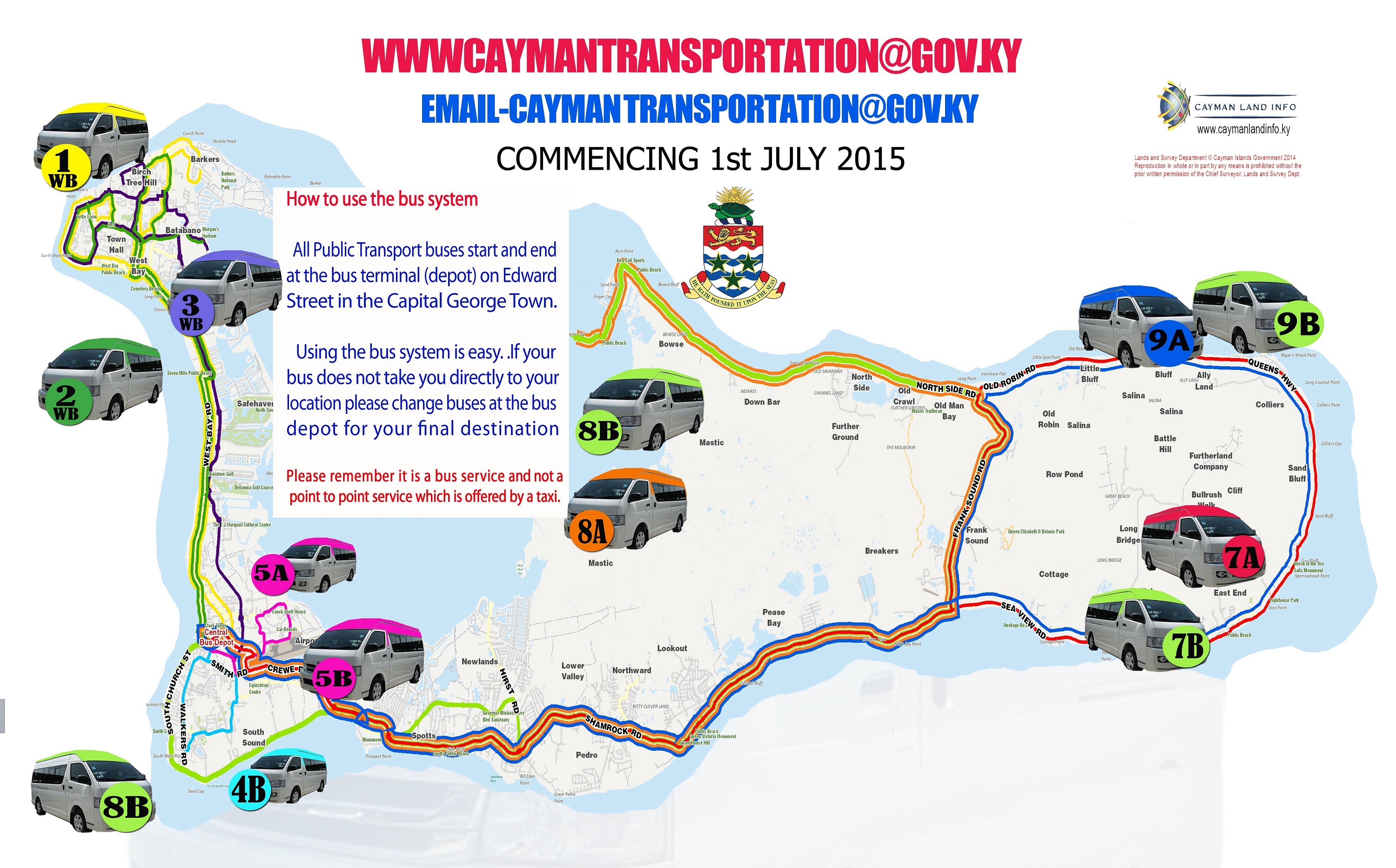 Another alternative is to use taxi services readily available in the main tourist areas. While taxis might be more expensive than buses, they provide a comfortable and flexible travel method. Taxis in the Cayman Islands have no taximeter, so discuss and agree on the fare before starting your journey to avoid misunderstandings.
If you love a bit of adventure, bicycles are available for rent on all three islands. Especially on the smaller islands of Cayman Brac and Little Cayman, cycling can be a fun and environmentally friendly way to get around.
Exploring the Three Islands
The Cayman Islands are a stunning destination for solo travelers to explore, offering a variety of experiences across their three islands: Grand Cayman, Cayman Brac, and Little Cayman. Each island has unique offerings for adventure, relaxation, and beautiful scenery.
Each of the Cayman Islands has its unique allure, combining to offer a diverse range of attractions and experiences. Whether you're an adventure seeker, a beach lover, or a nature enthusiast, the Cayman Islands cater to every solo traveler's dreams.
Grand Cayman
Grand Cayman, the largest of the three islands, boasts a mix of lively activities and tranquil spots for you to enjoy. Your first stop should be George Town, the capital of the Cayman Islands, where you can immerse yourself in local culture and history, explore the Cayman Islands National Museum, sample local cuisine, shop for souvenirs, or enjoy the world renown resorts with a day pass. Next, head to the famous Seven Mile Beach, lauded as one of the best beaches globally with its sweeping white sands and azure waters. A paradise for water sports enthusiasts, it offers excellent opportunities for snorkeling and paddleboarding, but also to organize a shark-diving excursion or rent a jet ski and visit the coastline.
While in Grand Cayman, visit Rum Point, popular for its vibrant atmosphere, water sports, and beach bars. It's an excellent place to relax and meet other travelers. For a unique adventure, take a trip to Stingray City, where you can swim and interact with friendly stingrays in their natural habitat. Lastly, visit the small village of Hell, known for its unique black limestone formations and quirky souvenir shops. If you are interested in marine life, a trip to the Cayman Turtle Centre is a must.
Cayman Brac
Cayman Brac is the island for adventure seekers, with its caves, bluffs, and trails waiting to be discovered. This island offers various outdoor activities like hiking, rock climbing, and birdwatching. Explore the numerous caves around the island, like the Great Cave, renowned for its limestone formations and unique bat populations. Remember to visit the Brac Parrot Reserve, home to the endangered Cayman Brac parrot, and immerse yourself in the island's lush greenery and wildlife.
For divers, the MV Captain Keith Tibbetts wreck is a highlight. This Russian warship was intentionally sunk to create an artificial reef and is now home to a colorful variety of marine life.
Little Cayman
If your idea of paradise is a serene, postcard-worthy setting, Little Cayman is the island for you. As the smallest, quietest, and least populated island, it is the perfect place to unwind and recharge. Spend your days lounging on virgin white sand beaches, snorkeling in crystal clear waters, or biking around the island at your leisure.
Little Cayman is also a fantastic destination for scuba diving, with the famous Bloody Bay Wall featuring remarkable coral reefs and diverse marine life. No matter how you choose to spend your time, Little Cayman will bring out the beach bum in you and leave you feeling refreshed.
Top Attractions and Activities
The Cayman Islands, rich in natural beauty and cultural heritage, present many activities and experiences for solo travelers. From underwater adventures to beach relaxation, exploring natural wonders, and immersing in local culture, there's no end to the memorable experiences you can have.
Water Adventures:
Scuba Diving: The Cayman Islands are a diver's paradise, boasting crystal clear waters, rich marine life, and fascinating shipwrecks. Top spots include the USS Kittiwake in Grand Cayman and the MV Captain Keith Tibbetts in Cayman Brac.
Snorkeling: Cayman Islands is also a paradise for those who love snorkeling. One of the most popular spots is the famous Stingray City, where you can get up close and personal with friendly stingrays. Cemetery Reef on Seven Mile Beach and Eden Rock in George Town are other popular locations for snorkeling in Grand Cayman. For a more unique experience, you can also explore the bioluminescent bay during nighttime snorkeling. With such diverse marine life, you'll have plenty of opportunities to create unforgettable memories.
Stingray City: This unique sandbar allows you to swim with and feed friendly stingrays in their natural habitat. Tours usually also include snorkeling at nearby coral reefs.
Starfish Point: One of the most picturesque locations in the Cayman Islands is Starfish Point, where you can take a stroll along the pristine beach, marvel at the vibrant starfish, and even go for a refreshing swim. The idyllic setting of Starfish Point makes it a perfect addition to your itinerary.
USS Kittiwake: If you're into diving, you will want to take advantage of the opportunity to explore the USS Kittiwake, a sunken 251-foot ship. As you dive into the clear waters, you'll discover the ship's wreckage and abundant marine life that has taken up residence. This unforgettable underwater adventure is a must-do for diving enthusiasts.
Kayak through Bioluminescent Bay: Enjoy a night kayak tour through the magical bioluminescent bay.
Paddleboarding: Try paddleboarding in the calm waters off Seven Mile Beach or Rum Point.
Jet ski: Enjoy the beautiful coasts of the Cayman Islands by joining a jet ski tour. If you want a more solo experience, rent a jet ski in Grand Cayman and explore some of the island's most enchanting spots.
Natural Wonders:
Beach Hopping: Explore the stunning beaches across the islands, from the renowned Seven Mile Beach to the quieter Smith Cove and Rum Point.
Crystal Caves: Tour these fascinating limestone caves in Northside, Grand Cayman, home to unique stalactite and stalagmite formations and lush tropical vegetation that you can explore on a guided tour. The cave system is a true hidden gem, giving you a glimpse of the Cayman Islands' natural beauty below the surface.
Mastic Trail: Hike this nature trail in Grand Cayman to discover the island's diverse flora and fauna.
Cayman Brac Rock Climbing: Experience rock climbing on the bluff of Cayman Brac.
Bird Watching: Visit the Governor Michael Gore Bird Sanctuary or the National Trust's bird watching tours.
Cultural Experiences:
Cayman Islands National Museum: Learn about the islands' history, culture, and natural history at this museum in George Town.
Pedro St. James: Visit this restored 18th-century plantation house, often called the "Birthplace of Democracy" in the Cayman Islands.
Heritage Beach: Enjoy local food, music, and artisan crafts every Thursday evening at this event in Cayman Brac.
Explore George Town: Discover the capital's history, architecture, and local life.
Cayman Turtle Farm: If you're fascinated by turtles, the Cayman Turtle Farm is a must-visit destination. Here, you'll have the chance to learn about turtle conservation efforts, see a variety of turtles, and even hold baby turtles in your hands. While at the farm, you can also visit the on-site aviary and enjoy a short hike through native flora.
Visit the Queen Elizabeth II Botanic Park: Wander through this beautiful garden filled with local plant species.
Visit the Cayman Spirits Co Distillery: Learn about rum-making and sample some local spirits.
Meeting Other Travelers:
Group Tours: Joining group tours, whether for diving, snorkeling, sightseeing, or food tours, can be a great way to meet fellow travelers.
Events: Participate in local events and festivals like the Cayman Carnival Batabano or the Pirate's Week Festival.
Local Bars and Eateries: Hang out at popular local spots in Grand Cayman, where you're likely to meet both locals and fellow travelers.
Camana Bay: While in the Cayman Islands, spend some time at Camana Bay, a lively waterfront development featuring shopping, dining, and entertainment options. With its upscale eateries, ocean views, and cultural events, Camana Bay is an excellent destination for relaxation and exploration. You'll have plenty of opportunities to meet people.
Sunset Catamaran Cruise: Enjoy breathtaking views from the water on a relaxed sunset cruise.
Join a Cooking Class: Learn to prepare traditional Caymanian dishes while making new friends that have a passion in common.
Local Cuisine and Restaurants
While exploring the Cayman Islands on your solo adventure, treat yourself to the delightful local cuisine and dining experiences. Caymanian dishes are a lovely blend of fresh seafood, exotic spices, and hearty root vegetables, meaning your plate will be packed with flavor and color.
One of the must-try dishes on your Cayman Islands trip is Fish Rundown, a savory seafood stew cooked with coconut milk. Another popular (and controversial) local delicacy is the green turtle stew, which has a unique taste. If you want something a bit lighter, try coconut shrimp or indulge in some delicious lobster.
To satisfy your sweet tooth, taste the Heavy Cake or Cassava Cake, both traditional desserts that'll leave you craving more. And remember to refresh yourself with a Mudslide Cocktail, a Cayman Islands specialty.
You can't go wrong with going local in Grand Cayman when it comes to solo dining options. Local eateries offer a casual dining experience along with the friendly and vibrant atmosphere you'd expect in the Caribbean. If you're looking for a more luxurious experience, stay at the Ritz Carlton, located along the soft white sands of Seven Mile Beach. It's known for offering premium dining experiences that cater to all tastes.
When dining solo, feel free to strike up conversations with fellow travelers or locals, as the people of the Cayman Islands are known for their warmth and hospitality.
If you want a night in, think of ordering food to cook at one of the grocery delivery services in Grand Cayman.
The Solo Traveler's Budget Guide to the Cayman Islands
The Cayman Islands, known for their luxury resorts and high-end dining, might not be the first destination that comes to mind for budget travelers. However, with some planning and smart choices, it's possible to enjoy the beauty and excitement of these islands without breaking the bank.
Here's a rough guide to costs you might expect as a solo traveler:
| Expense Category | Average Cost (per day) |
| --- | --- |
| Accommodation (Budget to Mid-Range) | $80 – $200 |
| Food (Local Diners and Self-Catering) | $30 – $50 |
| Transportation (Public Buses, Rental Car) | $15 – $30 |
| Activities (e.g., Snorkeling, Museum Entry) | $20 – $150 |
Please note that these are estimated averages as of 2023 and can vary based on personal preferences and seasonal fluctuations.
Tips on Saving Money:
Accommodation: Consider budget-friendly options like guesthouses, budget hotels, or Airbnb rentals. If possible, plan your trip during the off-peak season (May to November), when rates are generally lower.
Food: Try local eateries for delicious and affordable Caymanian cuisine instead of dining at upscale tourist-oriented restaurants. Grocery stores and local markets offer great options for self-catering, which can save a significant amount of money.
Transportation: Public buses are the most economical mode of transportation. If you're staying longer, consider renting a bike or scooter instead of a car.
Activities: Many of the Cayman Islands' natural attractions, like the Seven Mile Beach or Mastic Trail, are free to explore. When booking tours, compare prices from different operators, and consider group tours, which often cost less than private ones.
Travel Insurance: While not a saving tip, remember travel insurance. Medical costs can be high in the Cayman Islands, so it's crucial to have coverage to avoid hefty out-of-pocket expenses in case of illness or injury.
Souvenirs: Souvenirs can be pricey in tourist hotspots. Consider local markets or shops off the beaten track for more affordable options.
Packing Tips and Essential Items
When packing for a solo trip to the Cayman Islands, it's essential to consider the tropical climate, the various outdoor activities you might do, and local customs. Here are some suggestions for must-pack items and clothing recommendations.
Essential Items:
Sun Protection: Given the sunny climate, pack plenty of sunscreens with high SPF, a wide-brimmed hat, UV-protective sunglasses, and a lightweight scarf or cover-up for when the sun gets intense.
Swimwear: The Cayman Islands are all about beach and water activities. Pack multiple swimsuits or trunks, and consider bringing a rash guard for sun and rash protection if you plan on snorkeling or scuba diving.
Waterproof Bag: A waterproof bag or pouch for your phone and other essentials can be incredibly useful during water activities or unexpected rain showers.
Reusable Water Bottle: Hydration is crucial in tropical weather. Carry a reusable water bottle to stay hydrated and help reduce plastic waste.
Snorkeling Gear: If you plan on snorkeling, consider packing your own gear. While rentals are available, having your own ensures comfort and hygiene.
Insect Repellent: The tropical environment can sometimes attract mosquitoes, particularly in the evenings or in forested areas.
Travel Adapter: The Cayman Islands use the same plug type as in the US (Type A and B), so bring an adapter if your devices use a different plug type.
Clothing Recommendations:
The Cayman Islands' attire is generally casual beachwear during the day and smart-casual in the evenings, particularly at upscale restaurants or bars.
Lightweight Clothes: Pack light, breathable clothes like t-shirts, tank tops, shorts, and sundresses. Natural fabrics like cotton or linen are perfect for the tropical climate.
Evening Attire: For dining out or nightlife, men might want to pack a pair of khaki pants and a polo or button-down shirt, while a nice dress or a skirt and blouse combo would work well for women.
Footwear: Comfortable walking sandals are perfect for the beach and casual exploring. You might also want water shoes for rocky beach areas and a pair of dress shoes for evening outings.
Rain Jacket/Poncho: Although the islands enjoy plenty of sunshine, rain showers can occur, especially during the wet season (May to October). A lightweight rain jacket or poncho can come in handy.
Sweater or Light Jacket: Evenings can sometimes be breezy, especially near the beach, so packing a lightweight sweater or jacket is a good idea.
Frequently Asked Questions